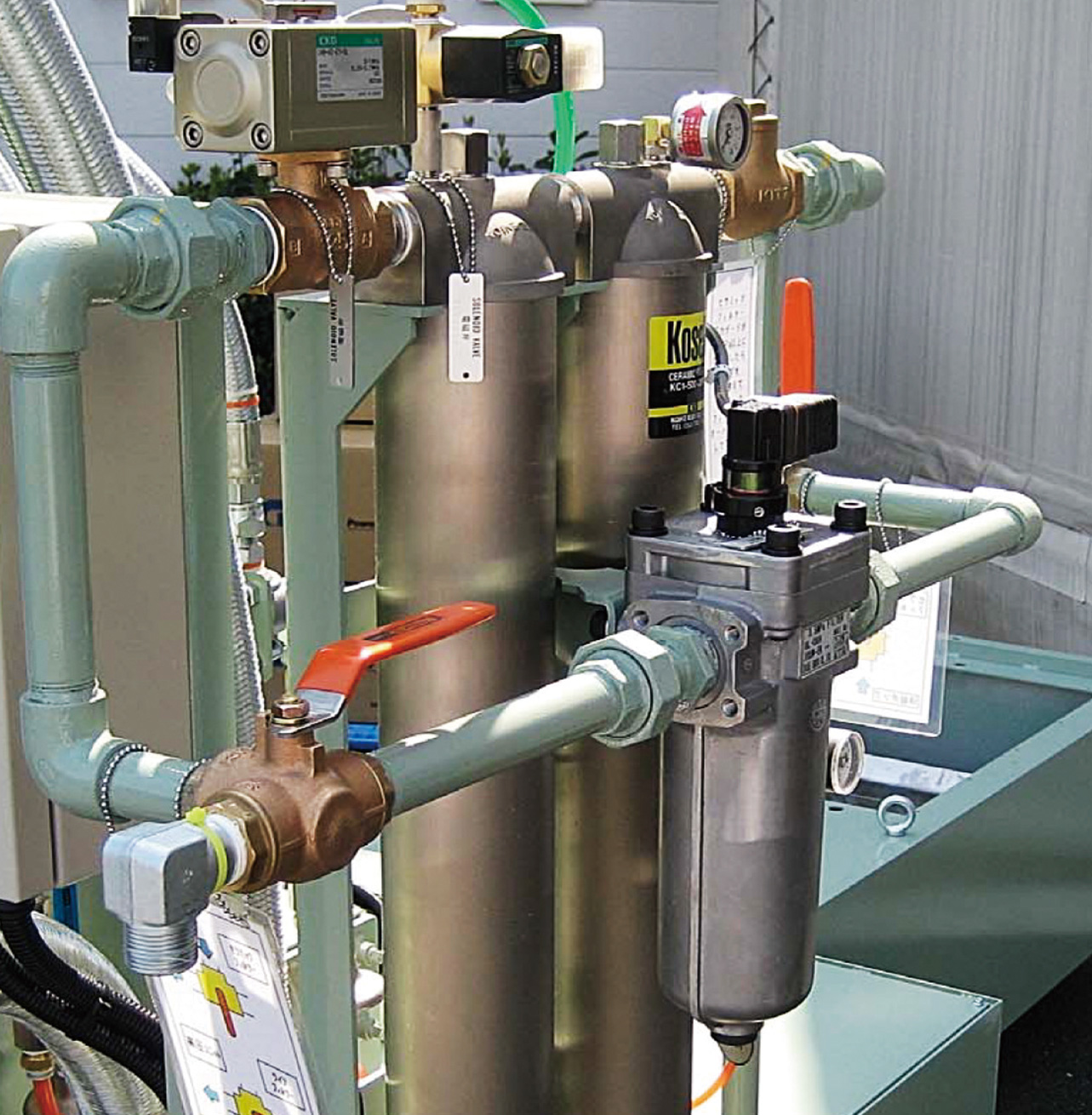 The highly accurate, backwashing filter without waste emission from the filter replacements

Kosell has achieved both "highly accurate filtration capacity" and "maintenance-free operation" that often conflicts with each other. Kosell saves the filter replacement labor, contributing to reduction of the running costs.
FEATURE
Key Features of Kosell
Backwashing type

Kosell significantly reduces the filter element replacement cycles. With almost once-per-year filter maintenance, it is extremely economical.
01

With filter medium

Unlike cyclone filters, Kosell's filtration accuracy will not compromise during warm-up and shutdown runs. Kosell assures stable and secure filtration.
02

No waste emission

Unlike bag filters that require replacements, Kosell makes disposal of the elements unnecessary. Accordingly, it works an effective measure against the environmental issues, including ISO14001.
03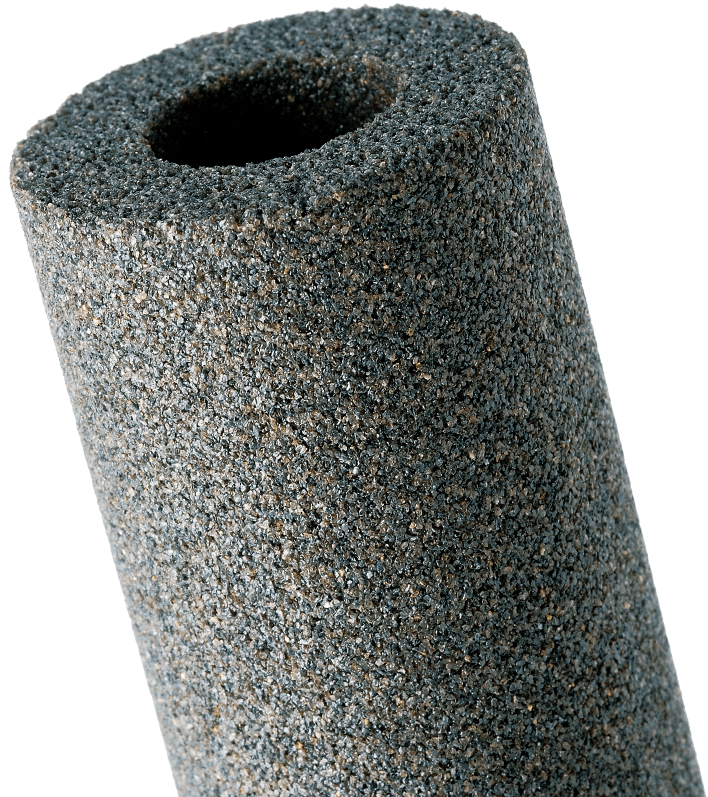 ELEMENT




Ceramic Filter

Filtration accuracy: 20μm
Renewable (good for recycling)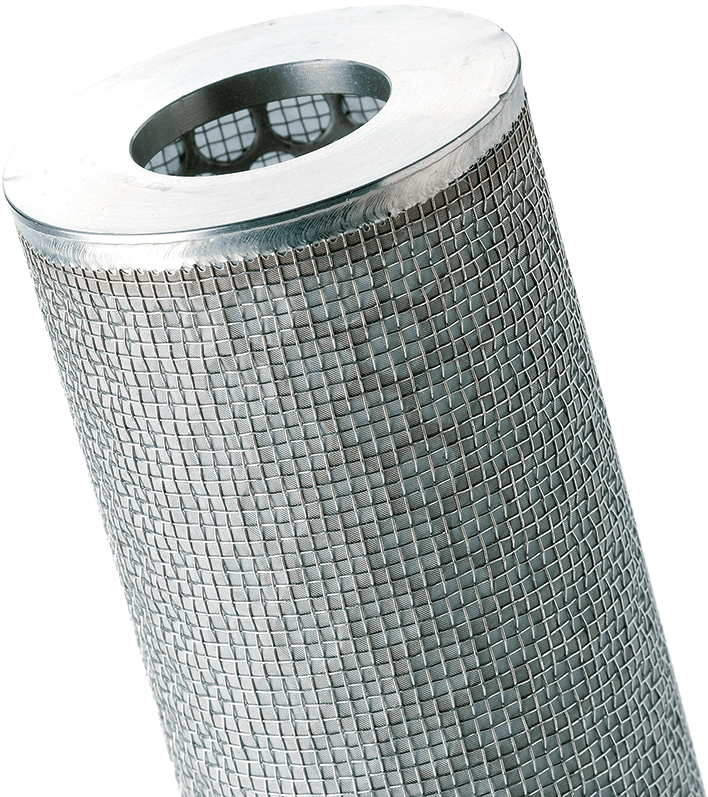 ELEMENT




SUS Mesh Filter

Filtration accuracy: 25μm
Triple-layer sintered metal mesh
BENEFITS
Key benefits from Kosell
Reduced running costs through zero industrial waste emission, requiring no consumables
Prevents wear on rotary joints.

Protects high-pressure pumps.

Prevents clogging in the oil holes.

Reduces chucking failures.

Improves product accuracy

Prevents deterioration of the process fluids

Extends the life of tools and grindstones.

Eliminates machine shutdowns for maintenance.
DOWNLOAD
Drawings and brochures download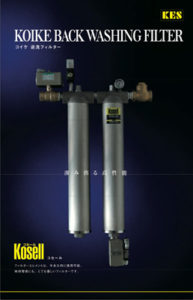 Koike Backwashing Filter
(KOIKE BACK WASHING FILTER)

Click the button below to view the material. Adobe Acrobat Reader is required to view pdf files. Adobe Acrobat Reader is available for free from Adobe. Click here to download the free Reader.
SPEC
Specifications
Machining Centers

Kosell is effective for high-pressure coolants in machining centers, including the through-spindle coolant. Particulary for ones using oil-based coolant fluids, Kosell is extremely effective because no other maintenance-free filters are commercially available so far. In iron casting, Kosell also effectively works as the filtration unit for carbon sludge that cannot be completely absorbed by magnetic separators.
Grinders

Kosell reduces dressing times, which will extend the life of grindstones. Kosell is also effective for oil-based coolants as with machining centers.
Scrubbers

Kosell extends the replacement cycles of the cleansing fluids, which also allows reduced effluent. It also extends the life of such replacement-type filters as the pre-filters for oily water separators.
For coolant fluids
secondary treatment

| | Filtration accuracy | Maximum service flow capacity | Supplied pressure | Bore |
| --- | --- | --- | --- | --- |
| KC1-250-20RV | 20μm | 40L/min | ~0.25Mpa | 25A |
| KC1-500-20RV | 20μm | 60L/min | ~0.25Mpa | 25A |
| KC4-250-20RV-1 | 20μm | 140L/min | ~0.3Mpa | 40A |
| KC6-250-20RV-1 | 20μm | 210L/min | ~0.3Mpa | 50A |

| | | | | |
| --- | --- | --- | --- | --- |
| | KC1-250-20RV | KC1-500-20RV | KC4-250-20RV-1 | KC6-250-20RV-1 |
| Filtration accuracy | 20μm | 20μm | 20μm | 20μm |
| Maximum service flow capacity | 40L/min | 60L/min | 140L/min | 210L/min |
| Supplied pressure | ~0.25Mpa | ~0.25Mpa | ~0.3Mpa | ~0.3Mpa |
| Bore | 25A | 25A | 40A | 50A |
Product code convention




(KC1-250-20RV)
Product code convention




(KP1-250-25RV)
The foregoing maximum service flow capacity is for hydrosoluble coolant. Though Kosell can be used for oil-based coolants, the service flow volume will be around 70 percent of the maximum capacity.

For secure backwashing, selection of the coolants requires particular care. Be sure to use a pump with total head lift of 20m to 25m in closed operation (KCI series).

The backwashing air pressure is required to be 0.35MPa or greater. In addition, directly draw the factory air to securely obtain sufficient air volume. Using clean, filtered backwashing air is recommended.

Run 5 to 8 seconds of backwashing every 60 seconds. The backwash flow is considerably strong from the drain line. Make sure that the tank is scatter-controlled.

This filter is for secondary treatment. DO NOT skip first treatment. To the filter, be sure to supply the fluids that are filtered through magnet separators for magnetic materials, or drum/cyclone filters for non-magnetic materials.

If the coolant is hydrosoluble (emulsified, in particular), the filter element will be adversely affected by the oil content in the fluid. Install such equipment as oil skimmers to collect the floating oil as much as possible.