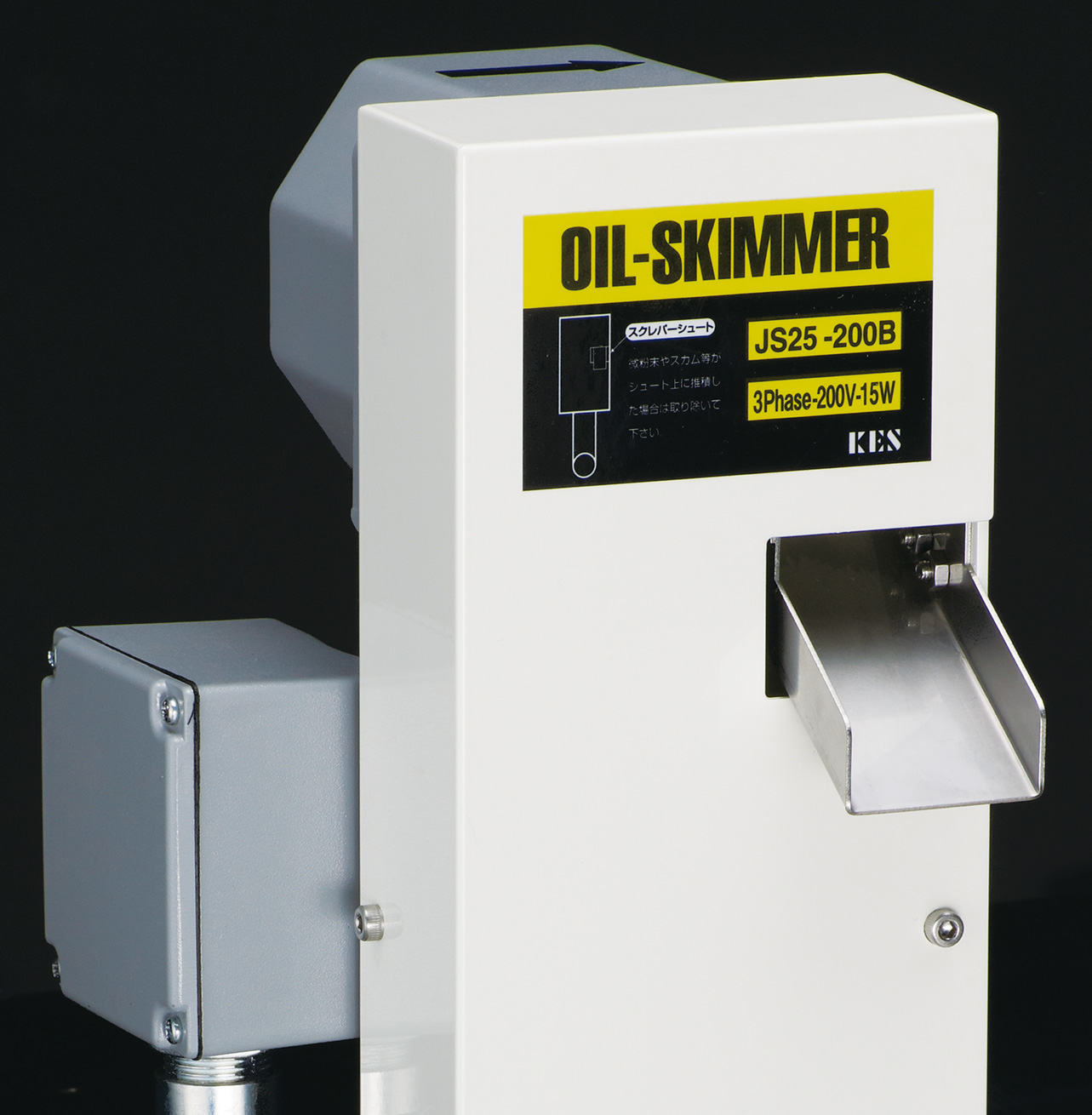 Compact yet wide-range extraction capacity

Koike's Oil Skimmers efficiently extract floating oil, scum and sludge from the coolant fluids and prevents the saprogenic bad odor, making them the industry standard for compact oil skimmers. Koike's Oil Skimmers are optionally adopted by different equipment manufacturers.
FEATURE
Key features of Oil Skimmer type JS25
Advanced belt specifications

The special seamless belt (25mm) with outstanding lipophilic properties is used. Floating oil is efficiently collected and the product durability is excellent as well.
01

DURACON rollers adopted

The rollers made of DURACON eliminate the rusting problems and the improvements including the weight reduction helped increase the durability.
02

Compact design

With more freedom in the space to install, the Skimmer can be easily fastened with two bolts.
03

CE-compliant motor (standard)

The motor can be made compliant to different standards, including UL and CCC.
04

Aluminum terminal box standardized

Replaced from the plastic box, the aluminum terminal box has reduced the breakage risk.
05

Newly added inspection window

Setting up an inspection window realized a structure for easier operation monitoring from the outside.
06
DOWNLOAD
Drawings and brochures download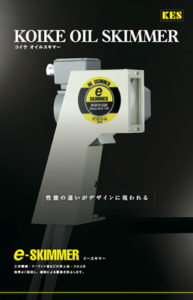 Koike Oil Skimmer, type JS25
(KOIKE OIL SKIMMER)

Click the button below to view the material. Adobe Acrobat Reader is required to view pdf files. Adobe Acrobat Reader is available for free from Adobe. Click here to download the free Reader.
SPEC
Specifications
Details

| | |
| --- | --- |
| Electrical specification | 200V 3-phase, 15W, 0.13A rated amperage |
| Collection capacity | Type SOC: 6 L/h (user equipment measurement) |
| Belt width | Type SOC: 25mm |

Note: An oil-water separation tank is available as an option.
Type JS25

| Product code | A dimension | Belt length |
| --- | --- | --- |
| JS25-115E | 115mm | 800mm |
| JS25-200E | 200mm | 970mm |
| JS25-300E | 300mm | 1170mm |

| | | | |
| --- | --- | --- | --- |
| Product code | JS25-115E | JS25-200E | JS25-300E |
| A dimension | 115mm | 200mm | 300mm |
| Belt length | 800mm | 970mm | 1170mm |

Note: 200V/220V 50/60HZ.15W 4P 1/50 Rated amperage: 0.13A

| For coolants | Vertical type |
| --- | --- |
| Plastic belt | JS25-115E |
| Plastic belt | JS25-200E |
| Plastic belt | JS25-300E |

| | | | |
| --- | --- | --- | --- |
| For coolants | Plastic belt | Plastic belt | Plastic belt |
| Vertical type | JS25-115E | JS25-200E | JS25-300E |
Product code convention